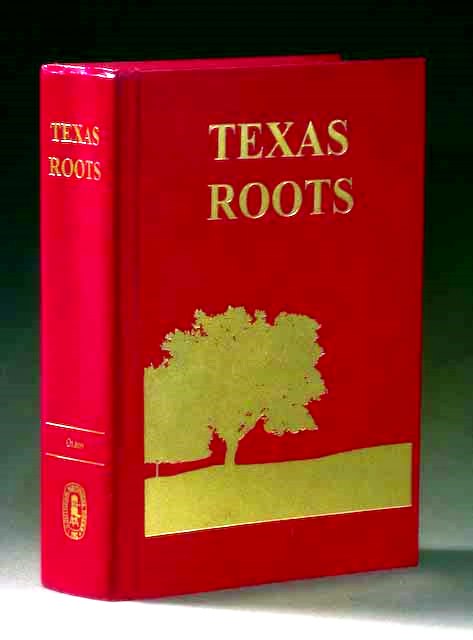 TEXAS ROOTS by Margaret F. Goynes-Olson, printed by Southern Historical Press - ISBN: 0971774617 - 900 page hardback - 7 ¼ x 2 ¾ x 10 ¼
IN STOCK $145.00 + $5.00 shipping and handling
This website is the only source for new copies of TEXAS ROOTS.
This is a book about Genealogy and Texas History. It includes many photos, marriage records, Cemetery Records, stories, copies of legal documents, obituaries, and etc. It was written about Old Texas Settlers, who first settled in South Texas, most of them coming from Counties in Ireland (such as Sligo, Leitrim Co., and etc.), and their descendents. The time period starts about 1760 to 1999. Some of the original family names are Fox, McMurray, McGinnis, Sheeran, McGloin, Gallagher, Dolan, and etc.

Seeing is believing the content of this beautiful treasure of a book. Margaret F.Goynes-Olson spent her life gathering histories and photographs of Texas families which she compiled a portion of in this 900 page Vol. 1 book. If you buy only one Texas family history book to have at home for reference, this is the one you need. TEXAS ROOTS, a 900+ page hardback book, represents 45+ years of research, many old photographs, marriage, cemetery, family records and stories starting in the 1700's. The Michael Fox family of Leitrim County, Ireland and his descendants of San Patricio County, Texas USA. Mrs. Olson created additional volumes of TEXAS ROOTS before her passing and they will be published in the future. A limited number of new Texas Roots first edition books remain in stock.
For more information or special shipping requests please contact, Lena Gaylene Olson: Lena@LenaOlson.com
~